Ameristar St. Charles Team Member Kicks-off Torch Run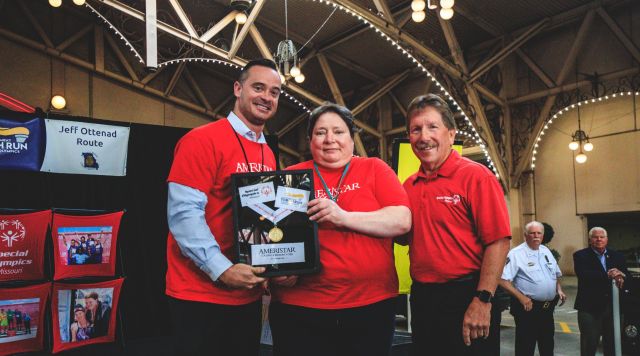 Team members at
Ameristar Casino Resort Spa
in St. Charles kicked off the annual Jeff Ottenad Memorial leg of the Law Enforcement Special Olympics Torch Run on May 19.
Paying homage to former Special Olympics athlete, Jeff Ottenad, the ceremonial start to the leg featured speeches from local dignitaries including St. Charles Mayor Dan Borgmeyer, law enforcement officials and Ameristar St. Charles Vice President & Assistant General Manager, Doug Lang.
Long-time team member, Jane Jackson, kicked off the first stretch of the run before passing it on to the law enforcement runners. It's the eighteenth straight year that Jane has carried the torch for Ameristar during her twenty-five years at the property. She has competed in bowling, skiing, bocce ball and basketball, earning several medals through the years in the Special Olympics.
In addition to hosting the kickoff, Ameristar donated $5,000 to Special Olympics Missouri (SOMO), bringing the property's total contributions to the organization to more than $80,000 over the past 18 years. Donations help fund the critical programs SOMO provides for individuals with intellectual disabilities through the joy and power of sports.
"It's a pleasure to continue our long-time partnership with Special Olympics of Missouri," said Lang. "Our team members look forward to this event every year and enjoy supporting Jane kick-off the run."
The Law Enforcement Special Olympics Torch Run originates in more than 40 locations in Missouri, culminating with the start of the state's Summer Games. Internationally, the Torch Run has a 40-year history and continues to grow every year. More than $60 million is raised worldwide for Special Olympics.