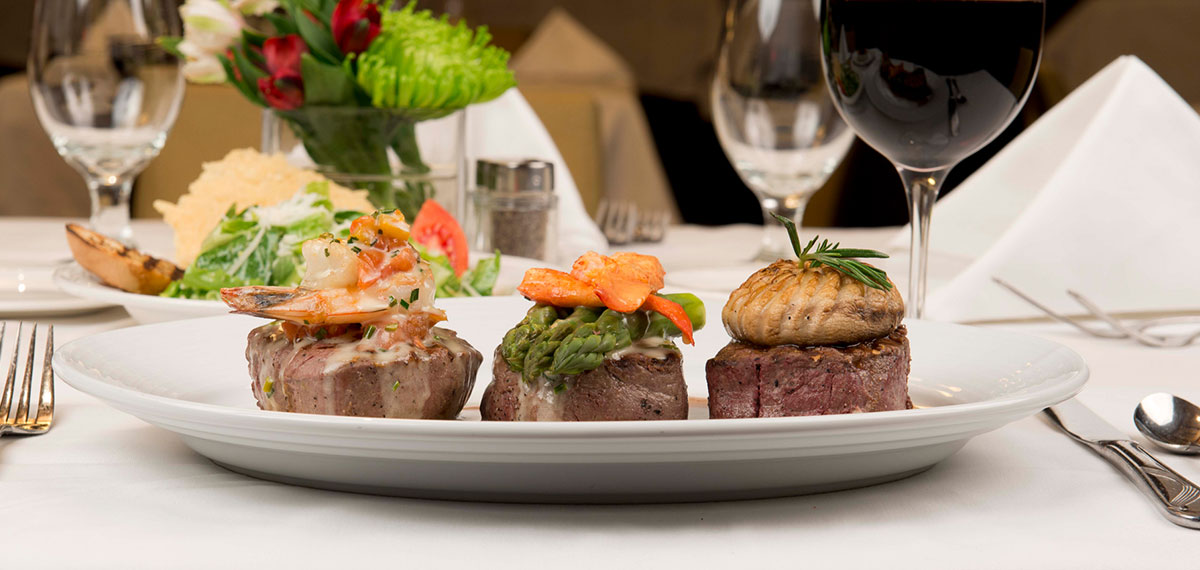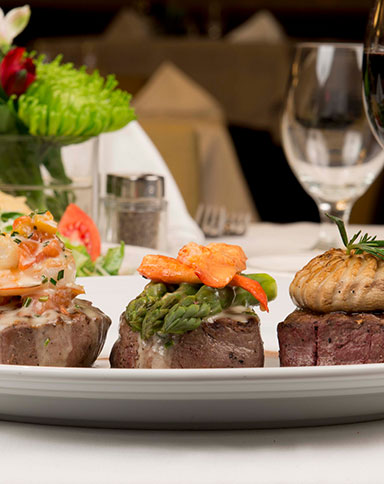 William B's Steakhouse
Named after Boyd co-founder Bill Boyd, William B's Steakhouse is a world-class steakhouse in the tradition of Las Vegas' legendary Stardust Hotel and Casino. But there's more than steak on the menu. You'll also find fresh seafood and exquisite pasta dishes, all prepared with classic Midwestern flair.
You must be 21 years of age or older to dine at William B's Steakhouse. Take-out is not available. William B's is a non-smoking venue.
Venue Details
Reservations Suggested. Please Call: (219) 877-2118
This page links to a PDF (Adobe Acrobat's Portable Document Format). Download Adobe® Acrobat® Reader® DC to read and access this document with enhanced features.
Dinner Hours
Christmas Eve and Christmas Day
Closed
New Year's Eve
4:00pm - 11:00pm
Wednesday - Thursday
5:00pm - 9:00pm
Friday - Saturday
4:00pm - 10:00pm
Reservations are required. Please make your reservation with the William B's Host Staff.
It is our pleasure to serve you.
Main Menu
APPETIZERS - CHILLED
zesty cocktail sauce, atomic horseradish, lemon
whole grain mustard, avocado crema
sesame, smoked shoyu, radish, seaweed salad
ARTISAN FRESH SHUCKED OYSTERS*
six oysters, zesty cocktail sauce, atomic horseradish, granita, mignonette, lemon
APPETIZERS - HOT
butter, garlic, herbs, cognac, white wine, puff pastry
ROCK SHRIMP DE JOGNHE (CIRCA 1900'S)
butter, garlic, herbs, lemon, panko, crostini
bacon jam, parsnip, herb salad
rémoulade, mache, shallot vinaigrette
cherry peppers, pomodoro, lemon
braised fennel, green apple slaw, pickled mustard seed, cider gastrique
spinach, onion, celery, fennel, garlic, cream, pernod, parmigiano reggiano
SOUPS
beef broth, caramelized onions, crouton, gruyère
knuckle and claw meat, heavy cream, brandy, crème fraîche
SALADS
field greens, tomatoes, cucumber, red onion, aged cheddar
iceberg, point reyes bleu cheese, applewood bacon, tomato, pickled red onion, chive
romaine, brioche crouton, parmigiano reggiano, creamy caesar dressing
spiced butternut squash, dried cranberries, pickled red onion, pecans, humboldt fog cheese, warm bacon vinaigrette
CHEF'S SPECIALTIES
chicken jus, cipollini, fresh herbs
cucumber, shiro dashi, black rice
lobster, crab, andouille sausage, rock shrimp, scallops, cream sauce
porcini dusted, crispy lentils, arugula pistou
roasted apple, cipollini agrodolce, pickled mustard seed, cider gastrique
fire-roasted tomatoes, egg plant, forest mushrooms, parmigiano reggiano . . . add chicken | salmon | shrimp | cold water tail
FROM THE BUTCHER BLOCK
William B's features 28-day aged Midwestern corn-fed beef. We simply season with sea salt and fresh cracked pepper, then grill to perfection.
king cut 24oz | queen cut 16oz
DRY AGED PRIME BONE IN NEW YORK STRIP*
16oz
BUTCHER BLOCK ENHANCEMENTS
oscar style — jumbo lump crab, asparagus, béarnaise*
WILLIAM B'S CLASSICS
AUSTRALIAN COLD WATER LOBSTER TAILS
oven roasted, drawn butter, lemon
filet mignon, béarnaise, cold-water lobster tail, drawn butter, lemon . . . 10oz | 7oz
SPLIT ALASKAN KING CRAB LEGS
drawn butter, lemon . . . 1lb | 2lbs
filet mignon, rock shrimp scampi, lemon . . 10oz | 7oz
ACCOMPANIMENTS
mascarpone mashed potatoes
house-cut truffle fries, parmigiano reggiano, herbs, béarnaise
asparagus, garlic butter, parmigiano reggiano
crispy artichoke and creamed spinach gratin
sea salt roasted baked potato
maple butter glazed carrots
fried brussels sprouts, peppercorn dressing
SWEETS
layers of rich devil's food cake, chocolate ganache, vanilla ice cream
fresh strawberries, chantilly cream
mascarpone pâte à bombe, ladyfingers, drunken espresso syrup, cocoa powder
vanilla bean custard, caramelized sugar crust, seasonal berries
layered spiced carrot cake, toasted pecans, cream cheese frosting
BOWLERMAN'S BANANA CREAM PIE
sliced bananas, vanilla bean pastry cream, pecans, bourbon caramel, chantilly cream