Executive Management
William S. Boyd
Chairman Emeritus

Bill Boyd co-founded Boyd Gaming Corporation in 1975 with his father, Sam Boyd. A practicing attorney for 15 years, he turned his attention to gaming full-time in 1975 and served as Chief Executive Officer of Boyd Gaming from 1993 to 2008, leading the Company through a period of significant national expansion.  Following his retirement as CEO, Bill served as Executive Chair of the Board of Directors from 2008 to 2023.  Bill was named Chairman Emeritus in May 2023.
Marianne Boyd Johnson
Executive Chairman

Marianne Boyd Johnson has served as Executive Chairman of the Board of Directors since May 2023, after previously serving as Co-Executive Chair since 2021 and Vice Chair since 2001. Prior to being named Executive Chairman, Marianne served as the Company's Executive Vice President and Chief Diversity Officer, with oversight of the Company's purchasing programs and diversity initiatives. Johnson joined Boyd Gaming in January 1977 and has served on the Board of Directors since 1990. She also serves on the board of Western Alliance Bancorporation.
Keith E. Smith
President and Chief Executive Officer

An industry veteran with 30 years of gaming experience, Keith Smith first joined Boyd Gaming Corporation as Corporate Controller in 1990. He was promoted to Executive Vice President of Operations in 1998 and to Chief Operating Officer in 2001. In 2005, Smith was named President and in January of 2008, he assumed the role of Chief Executive Officer. He has been a part of senior management at properties in both Atlantic City and Las Vegas. He previously served as Chairman of the Los Angeles Branch of the Federal Reserve Bank of San Francisco; Chairman of the American Gaming Association; and Chairman of the Nevada Resort Association.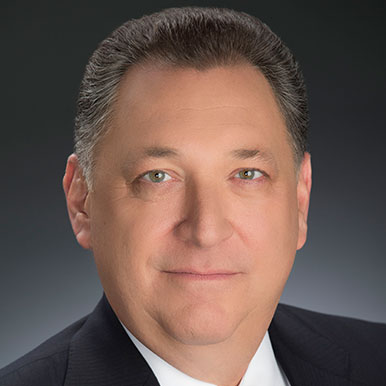 Josh Hirsberg
Executive Vice President, Chief Financial Officer and Treasurer

Josh Hirsberg oversees the Company's financial efforts, including debt and equity financing, strategic planning, accounting, budgeting and investor relations. Prior to joining Boyd Gaming in January 2008, Hirsberg was Chief Financial Officer of a real estate acquisition and development company. A 30-year veteran of the industry, Hirsberg previously held senior-level executive positions at several publicly-traded gaming companies.
Steve Thompson
Executive Vice President, Operations

Steve Thompson brings more than 30 years of experience at Boyd Gaming to his role of Executive Vice President, Operations, including 12 years as Senior Vice President, Operations, for Boyd Gaming's Nevada region. Thompson serves as the Company's senior operations executive in Nevada, overseeing the Company's 11 properties across the Las Vegas Valley.
Ted Bogich
Executive Vice President, Operations

Ted Bogich is a gaming industry veteran with almost 30 years of experience in a variety of markets across the United States. Since joining Boyd Gaming in 2004, Bogich has held a number of key leadership roles within the Company, including three years as Senior Vice President, Operations for Boyd Gaming's properties in Illinois, Indiana, Kansas, and Louisiana. As Executive Vice President, Operations, Bogich is Boyd Gaming's senior operations executive for the Company's 17 properties in Illinois, Indiana, Iowa, Kansas, Louisiana, Mississippi, and Pennsylvania.
Uri Clinton
Executive Vice President, General Counsel and Corporate Secretary

As Executive Vice President, General Counsel and Corporate Secretary, Uri Clinton oversees Boyd Gaming's Legal, Corporate Governance and Regulatory Compliance functions. With nearly 20 years of experience in the gaming industry, Clinton has an extensive background in leading both law departments and property operations, having served as President and Chief Operating Officer of a major East Coast casino, as well as General Counsel for a gaming equipment supplier and international holding company. Clinton joined Boyd Gaming as General Counsel in 2021.
William R. Boyd
Vice President

William R. Boyd assists the Chief Executive Officer and oversees a wide spectrum of special projects as a member of the corporate management committee. After joining Boyd Gaming in 1977, he worked in a number of the back-of-the-house operations before being named Vice President in 1991. He is also a member of the Company's Board of Directors, and is Chairman of the corporate compliance committee. Boyd is also a member of the board of directors of the Better Business Bureau of Southern Nevada.