Pennsylvania
Meetings and conventions held at the Valley Forge Casino Resort are a blend of imagination, sophistication, and detailed corporate event planning. Events are drawn to Valley Forge Casino Resort because of our attention to detail and because we offer a wide variety of exciting activities all in one spot. From small gatherings to large groups, Valley Forge has the space, accommodations, catering, activities, and nightlife to exceed every expectation.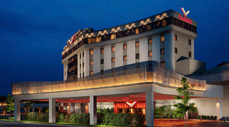 Valley Forge Casino Resort
It's never business as usual at Valley Forge! Let our team of professionals guide you through the entire planning process, leaving no detail overlooked.
Plan Your Event
View Official Website
Directions