Ameristar St. Charles Receives Prestigious Awards
08/17/2021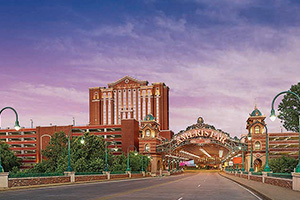 The daily efforts of the dedicated team members at Ameristar Casino Resort Spa St. Charles in Missouri were recently recognized with major hospitality awards from AAA, Casino Player magazine, and the St. Louis Post-Dispatch.
"All of these awards are reflective of the commitment to quality and excellence that permeates through our team at Ameristar St. Charles," said Ward Shaw, Senior Vice President and General Manager at Ameristar St. Charles. "Our Boyd Gaming team understands the importance that it all starts with creating a great environment and culture."
Leading the way is the AAA Four-Diamond Award, which Ameristar St. Charles received for the 13th straight year. This recognition is given to only 1,731 hotels throughout the U.S., Canada, Mexico, and the Caribbean out of the nearly 53,000 hotels and restaurants inspected and approved by AAA. This honor puts Ameristar St. Charles in the top 4.4% of hotels in North America and the Caribbean. This single award means so much to thousands of team members as well as customers who choose to call Ameristar St. Charles their favorite place to spend their time.
Ameristar St. Charles also rang up a strong performance in the Casino Player magazine's annual Best of Dining & Nightlife Awards 2021, including the following recognitions in the Missouri market:
Best Place to People Watch: Globar
Best Asian: Asia
Best Sushi: Asia
Best Desserts: Falcon Bakery
Best Bar: King Cat Club
Best Place for Cocktails: King Cat Club
Best Bartenders: Globar
"We are so proud of all we've accomplished with our restaurants, bars, and all that our team members have put into making the food, drinks, and atmosphere the absolute best in St. Louis," said Angela Russell, Internal Communications and Community Relations Manager at Ameristar St. Charles.
Finally, the annual St. Louis Post-Dispatch Top Workplaces in St. Louis award is one that the staff looks forward to collectively. Team members fill out an anonymous survey online with the publication, answering questions about their experience with working at Ameristar St. Charles. The property was proud to receive the publication's 2021 Top Workplace award.
The continued accolades are a reflection of the team members as well as the elevated amenities throughout the property.
"Building that culture is the core of what we do," said Shaw. "It allows us not only to have a fun and rewarding career but allows us to attract the top talent across the country. That's why, in my opinion, it all starts with the Top Workplace award and being recognized as a place where individuals who are serious about their careers want to work and enjoy being. Attracting that top talent allows us to create the experiences that drive the other accolades we receive, from multiple recognitions in publications like Casino Player magazine to recognition as one of the top hotel experiences in the country with AAA's Four-Diamond hotel recognition. At the core of it all is always our great team members at Boyd Gaming and Ameristar St. Charles."
To learn more about Ameristar St. Charles, visit www.ameristarstcharles.com.