Boyd Gaming Donates $250,000 to Louisiana Relief Efforts
09/14/2021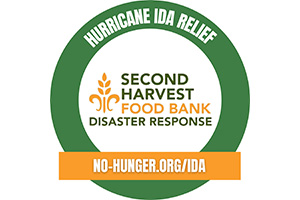 In late August, Hurricane Ida struck Louisiana bringing devastation to areas throughout the southeastern part of the state. To help support our southern Louisiana communities during this difficult time, Boyd Gaming donated $250,000 to Second Harvest Food Bank, the largest food bank in southern Louisiana.
The donation will provide financial support for Second Harvest's ongoing efforts to provide food and water to residents of Jefferson and St. Mary's parishes, home to Treasure Chest Casino, Amelia Belle Casino, and surrounding communities. These areas suffered extreme damage from Hurricane Ida, which made landfall in southern Louisiana on August 29.
"Following this terrible storm, our highest priority is the safety and welfare of our southern Louisiana team members and neighbors," said Keith Smith, President and Chief Executive Officer of Boyd Gaming. "This donation will help our partners at Second Harvest provide much-needed food and water to thousands of local residents who are still trying to recover."
Natalie Jayroe, President and Chief Executive Officer of Second Harvest, said: "We are grateful for this extraordinary gift from Boyd Gaming to support Second Harvest Food Bank's disaster response in the aftermath of Hurricane Ida. Boyd Gaming's financial commitment will support relief efforts in communities in Jefferson and St. Mary parishes, two areas that were hard-hit by this devastating storm. We are receiving daily requests for help from these communities and this gift will help us make the biggest difference we can."
Thankfully, no Louisiana team members were injured or killed during the hurricane. However, some team members are facing the greatest challenges they've ever experienced as they rebuild and recover. To stand by our Boyd Gaming family in Louisiana, the Company will provide team members in need with financial support to help start the recovery process. Boyd Gaming also extended full pay, including tip income, to team members at Treasure Chest and Amelia Belle while the properties were closed due to the hurricane. Amelia Belle reopened on September 9 and Treasure Chest reopened on September 10.
Additional assistance is also available to team members in need through the Boyd Gaming Team Member Crisis Fund. To learn more, visit www.employees1st.org/boyd-gaming or call (888) 448-2727.
Team members who would like to support Second Harvest Food Bank's disaster response efforts in southern Louisiana can visit www.givingtheboydway.com to make a donation. You can search for the organization by Tax-ID (72-0956468) or its full name: Second Harvest Food Bank of Greater New Orleans and Acadiana.
If you would like to make an immediate contribution to support team members affected by crises, such as Hurricane Ida, through the Boyd Gaming Team Member Crisis Fund, please visit the Team Member Crisis Fund section on the homepage of www.givingtheboydway.com. Here you will find directions on how to provide immediate support.
Please note that donations made through payroll deduction pledges during the Giving the Boyd Way campaign, now through October 15, will not be deducted until 2022, and will not be available to support team members immediately. Credit and debit card donations will be available at the close of the current quarter. If you have any questions, please reach out to your Human Resources team.
The entire Boyd Gaming team is thinking of our Louisiana team members and communities and will continue to stand by them as they go through these challenging times.