Boyd Gaming Launches 'Green Teams'
12/14/2021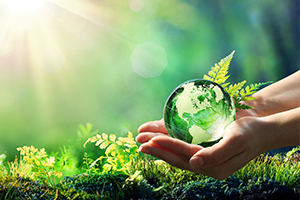 At Boyd Gaming, our focus on Environmental, Social and Corporate Governance (also known as ESG) is an integral part of our success as a Company. This includes a comprehensive effort to help protect the environment and meaningfully reduce our waste and consumption of natural resources across our nationwide operations.
As part of this commitment, Boyd Gaming has formed "Green Teams" of team members at two of our properties, Ameristar Casino Hotel Kansas City in Missouri and Valley Forge Casino Resort in Pennsylvania. These Green Teams are dedicated to looking for ways to reduce the amount of waste we are sending to landfills, improve our recycling rates at these properties and conserve energy.
At Ameristar Kansas City, the Green Team's goals are to inform team members of the property's waste diversion and energy conservation efforts; educate team members on what can be recycled and how to do it within their departments; and serve as stewards by leading by example and creating excitement about Green Team initiatives throughout the property. A key initiative for the Green Team is to help improve recycling rates for the property.
"A recycling program is most successful when supported by the front-line team members. We decided to create a group of team members from the largest waste-producing departments that have a passion for the environment and create stewardship from those team members," said Rufus Lockwood, Director of Facilities and EVS at Ameristar Kansas City. "We currently have members that work in food service, finance, facilities, EVS, procurement, housekeeping and security. It was fun from the start and the passion these team members show is amazing."
Ameristar Kansas City's Green Team is helping to improve recycling efforts through various projects. The Green Team is collaborating with the F&B and Procurement Departments to compost food and food containers from all F&B outlets at the property, including the Team Member Dining Room.
The team also created glass recycling cans for the casino floor to capture glass beer bottles used by guests. This recycling effort required training EVS team members to divert glass from the property's waste stream to its recycling containers.
Additionally, the team is working with the Marketing Department to improve signage and promote examples of how team members can recycle in the Team Member Dining Room.
Another project the Green Team participated in was the Kansas City Electronics Recycling Event in November, which was a free, public event that the team promoted at the property to encourage team members to recycle old electronics. A total of 30 team members participated and the Green Team was able to raise awareness of the importance of recycling electronics that are no longer being used.
The Green Team at Valley Forge is also making great strides to help reduce waste, improve recycling and reduce energy usage. Marvin Dixon, Vice President of Engineering at Valley Forge, says the goal of their Green Team is to increase diversion of waste from the landfill by at least 30 percent in their first year, and the team expects to be at 45 to 50 percent, if not more, by mid-2022.
"The purpose is to save our only Earth, and create responsible habits that our next generations can enhance and improve," said Dixon. "Our hope is to ensure our team members realize their efforts play an important part in something much bigger."
Valley Forge's Green Team is made up of representatives from each department, which helps to advance their efforts. Green Team representatives communicate proper waste disposal procedures to their departments, and they regularly discuss challenges they're facing and ideas to help provide solutions and improvements specific to each department's needs. These collaborative discussions have resulted in better procedures that have yielded significant gains in recycling numbers for the property. The team also works together to ensure that each department has the tools, procedures and training to efficiently help the property reduce waste.
Team members at Valley Forge have also been working on several projects, as part of their Green Team initiatives. These projects include rolling out 50 recycling containers at the property's bars and kitchens to capture recyclables at generation points, and setting up recycling stations across the property to collect electronics, batteries, light bulbs, oil, metal, pallets and toner cartridges.
The Valley Forge Green Team is also working on promoting their initiatives through informational signage at the property and by providing ongoing training for recycling procedures. The team also plans to launch a compost program in 2022 and identify more recycling opportunities for the property's public spaces. Another important project the team is working on is tracking their waste diversion efforts to show their progress and inspire effort among team members.
"We were happy to learn that many of our sister properties were already doing an excellent job at recycling – they just were not tracking this noble effort," said Dixon. "Highlighting examples of responsible resource management inspire others to do the same."
Another effort happening at Valley Forge is the property is recycling heat from an engine driven generator that supplies 80% of the electricity required to operate 250 slot machines. Additionally, the heat from the generator's engine is being used to heat all the water for the casino guest tower, provide heating for the guest tower's rooms and event center, and it heats water for the property's food court kitchen operation. This system diverts 199 metric tons of carbon dioxide, which is equivalent to 67.6 tons of recycled waste.
The Company will be rolling out Green Teams at additional properties in the coming months, so please check with your Human Resources team if you are interested in joining this exciting new initiative.
To learn more about Boyd Gaming's commitment to protecting the environment, check out the Company's ESG report at www.caringtheboydway.com.