Boyd Gaming Receives Recognition from Forbes Magazine
11/16/2021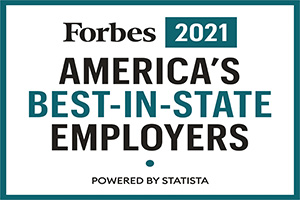 Since Boyd Gaming was founded in 1975, our Company has been committed to embracing diversity in every aspect of our business, including our team members, our vendors, our charitable donations, and our customers.
We also value relationships with every team member. Our goal is to provide much more than a job – we want Boyd Gaming to be someplace you can build a meaningful, long-term career.
Recently, one of the most well-known publications in the country, Forbes magazine, recognized Boyd Gaming for both of these commitments, putting our Company on top of two prestigious lists of leading employers.
This spring, Forbes ranked Boyd Gaming as the top casino operator in the United States in "America's Best Employers for Diversity." A few months later, Forbes honored Boyd Gaming again, naming us one of Nevada's 25 Best Employers for the second year in a row.
In both cases, the awards were directly determined by input from Boyd Gaming team members. Working with Statista, an independent survey company, Forbes anonymously surveyed tens of thousands of employees across the country – asking about both their current employer and others in their industry -- to determine rankings for each list.
When it comes to diversity and inclusion, the awards are key recognitions of Boyd Gaming's continued efforts, said Joe Coe, Director of Diversity for Boyd Gaming. Key initiatives include the Company's ongoing "Stand With our Communities" diversity awareness campaign; our active diversity committees at many properties; our ongoing efforts to create hiring and promotion opportunities for diverse team members; and our mandatory online diversity awareness training for every team member.
"Greater intentionality was placed on casting a wider net when filling manager and above positions across the enterprise," Coe said. "Our properties have active diversity committees that meet regularly to discuss progress towards goals and solutions around challenges they may face."
Much of the Company's Diversity and Inclusion efforts are led by the Co-Executive Chair of the Board, Executive Vice President and Chief Diversity Officer, Marianne Johnson, and the Vice President of Corporate Human Resources, Chris Smith.
"We're very proud of what these awards mean," Smith said of the recent Forbes awards. "It demonstrates the continued commitment company-wide to team members and Boyd Style."
The in-state employer award was particularly humbling to receive.
"It's been a difficult 18 months in terms of COVID, reopening and getting people back to work," Smith said. "This award is a recognition that a company like ours is still committed to the corporate culture. It goes to show culture matters."
To learn more about the Company's commitment to our team members and our diversity initiatives, check out the Boyd Gaming ESG report at www.caringtheboydway.com.