California Team Member Honored as LVCVA Hospitality Hero
12/14/2021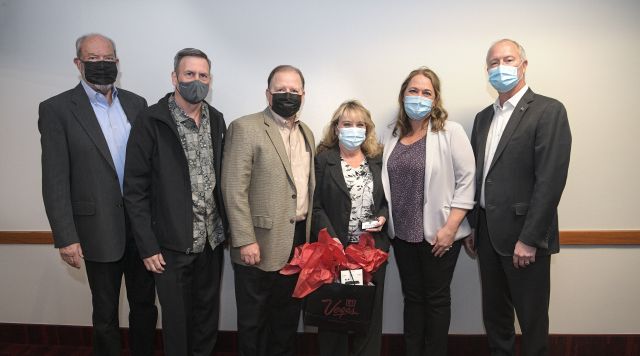 Longtime Boyd Gaming team member Cindy Brown was recently named a "Hospitality Hero" by the Las Vegas Convention and Visitors Authority (LVCVA).
Brown, a Slot Shift Manager at the California Hotel and Casino, was recognized for going the extra mile during a Board of Directors meeting at the Las Vegas Convention Center in October.
A video presentation, shown at the meeting, highlighted the many reasons Brown was selected for the quarterly award. In the video, the California's Vice President and General Manager Andre Filosi called Brown's customer service skills "exceptional" while the Selection Committee described her as "an exemplary role model and an example of what the hospitality industry should be."
Brown began working for Boyd Gaming at the Stardust Resort and Casino in Las Vegas 32 years ago. As a Slot Shift Manager at the California, she handles slot operations as well as guests concerns and needs like comps, rooms and food while leading by example, building teamwork and assisting other departments.
When Brown learned she won the award and would be honored publicly, she admitted she felt a mix of emotions. "I was scared and happy at the same time," said Brown. "I didn't think it was going to be that big of a deal, until I got my trophy and watched the videos. Then it finally hit me, and reality sunk in."
At the LVCVA meeting, Brown was awarded with a trophy made of glass as well as a staycation at any Vegas resort, a Vegas Strong bracelet, a Yeti, jacket, backpack, mask and as Brown added: "bragging rights."
California's Director of Casino Operations Salinda Conklin, nominated Brown for the award, explaining that Brown "is like no one" she's ever worked with.
"She is passionate, and a ball of energy that deeply cares for her team and our guests," said Conklin. "She will do anything that is needed for us to be successful and in many cases I don't even have to ask. She believes in developing her team to be able to take on more responsibility."
For Brown, the award has helped her to realize her own self-worth and just how much she is appreciated at work. "It made me realize my purpose in my work life, to continue to inspire other team members to be the best they can be," she said.
To nominate an outstanding colleague to be a LVCVA Hospitality Hero, please visit www.lvcva.com/advocacy/#hospitality-heroes.