Sam's Town Tunica Honors 2020 Team Member of the Year
11/16/2021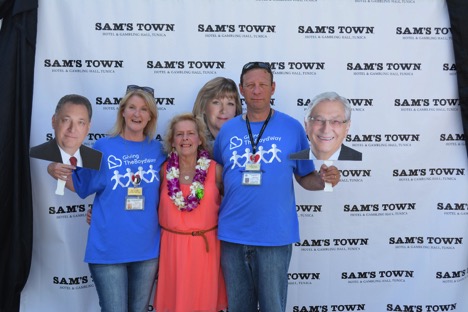 To honor their 2020 Team Member of the Year, Sam's Town Hotel & Gambling Hall, Tunica in Mississippi threw a rooftop picnic party on National Picnic Day (June 18).
Team members gathered on the fourth-floor rooftop of the property's parking garage under sunny skies to feast on delicious barbecue and a beautiful spread of delectable foods made by the Sam's Town Tunica Food & Beverage Department.
"All team members were invited to help us celebrate the 2020 Team Member of the Year," said Linda Williams, Human Resources Manager at Sam's Town Tunica. "We thought it would be a great idea to honor our 2020 Team Member of the Year nominees at the rooftop party and select our 2020 Team Member of the Year."
As the picnic was underway, a single name was randomly chosen from a barrel filled with the names of Sam's Town Tunica team members who received a 2020 Team Member of the Year nomination. To her surprise, Geraldine Strausser, a longtime team member who works in Table Games, was declared the winner.
Strausser began working at Boyd Gaming in 1995 after some co-workers told her she would be a great fit for the Company's culture.

"They said I would fit right in with my personality," Strausser said. "I was impressed with the employees being so kind and welcoming. I actually had fun from the first day. I love dealing to the guests, the atmosphere and co-workers. I've enjoyed my time at Sam's Town and continue to enjoy working here every day."
As part of her Team Member of the Year recognition, Strausser will receive an all-expense-paid vacation to Hawaii, a perk she is thrilled to enjoy.
"Thank you to Boyd and all my friends at Sam's Town," Strausser said. "I plan to stay at Sam's Town until I retire. It's such a super company to work for."
To learn more about Sam's Town Tunica, visit www.samstowntunica.com.