Team-Building Event for Suncoast Marketing Team
08/17/2021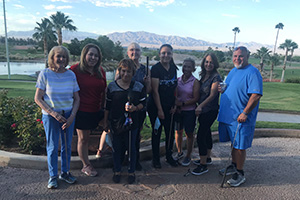 The Suncoast Hotel & Casino marketing team in Las Vegas recently hit the links at Angel Park Golf Course for a successful team-building event.
Some team members were skilled golfers while others had never hit a golf ball, but they all displayed camaraderie and had a tee-riffic time.
"It went great," said Director of Marketing Keno Ackerman, adding jokingly, "Of course, my team won." She quickly explained that there wasn't really a winning team since they didn't keep score; the event "was just for fun."
The team-building events were formed in response to the Pulse Survey, a team member survey that offers feedback to senior leaders on how they can improve their property's work environment.
For a previous team-building event, the Suncoast marketing team invited the marketing team from Aliante Casino + Hotel + Spa over for a friendly bowling event. Next quarter, the Suncoast marketing team will rock the mic at karaoke.
"We try to think of fun, and inclusive activities that will facilitate team-building," said Ackerman. "We get to know each other, have fun and share laughs. We become a stronger team because we see each other in a different way, other than just what our work role defines us as."
Team-building events demonstrate the Boyd Gaming core value, "Value Relationships." The Suncoast Marketing Departments, including the B Connected Club and Player Development teams, often collaborate as one team to demonstrate their core values to both external and internal customers.
"We often work in each other's area and with each other for problem-solving, delivering excellent customer service, reviewing offers and promotions, and for training and development," said Ackerman. "We have established a strong rapport with each other and are learning how to 'Work Smart' and 'Exceed Expectations' for our customers and the property's overall success."
To learn more about Suncoast Hotel & Casino, visit www.suncoastcasino.com.