Team Members Reunite at Ameristar 5K Fun Run and Walk
11/30/2021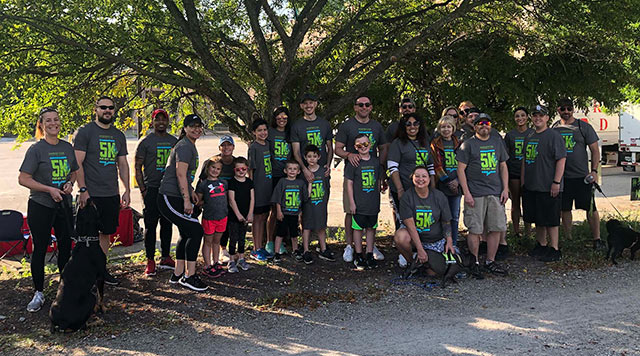 Team members at Ameristar Casino Resort Spa in St. Charles, Missouri enjoyed the opportunity to see friendly faces at the property's annual 5K Fun Run and Walk at The Katy Trail earlier this year.
Canceled last year due to the pandemic, the team-building activity reunited team members, friends and families who hadn't seen one another since the start of the pandemic. It was the perfect way "to break the ice," according to Boyd Gaming's Internal Communications and Community Relations Manager, Angela Russell.
"Being separated from family, friends and co-workers has been tough on everyone," said Russell. "The 5K Fun Run and Walk is a great way to get outdoors, enjoy some fresh air and get active. This event may be simple, but it means so much to the participants. Reconnecting with their fellow co-workers and seeing friendly faces again is a boost to everyone's mental health."
Some participants walked while others ran along a designated portion of the Missouri State Park trail, which just happens to back up directly to Ameristar St. Charles. To keep the walk non-competitive, no prizes were awarded. Instead, each participant received an Ameristar St. Charles 5K T-shirt, water and healthy snacks. They also enjoyed a beautiful day in Missouri, where Russell pointed out, "the weather can change in a beat."
Team events like the annual 5K have helped make Ameristar St. Charles a top workplace in its market. The Boyd Gaming property was recently recognized as a 2021 Top Workplace in St. Louis by the St. Louis Post-Dispatch.
"From social activities to giving back to our community, our team members enjoy interacting and creating a fun work environment," said Russell.
To learn more about Ameristar St. Charles, visit www.ameristarstcharles.com.