$500,000 Power Bingo
$345 Power Bingo Package includes 2 Room Nights*, 6 Food Vouchers & Entry
Monday, November 26 & Tuesday, November 27, 2018
Boyd Gaming has linked its three Bingo Rooms to bring you this exciting event.
Event Entry Fee Includes:
Entry Into the Fun-Filled 2-Day Bingo Event
Two $50,000 Winners
One 9-On Pack
Free Daubers
6 Food Vouchers
Free room night on event days with the purchase of the prior Sunday night at the special rate of $39.99*
$25 Extra packs
*Plus Tax & Resort Fee. Cancellation/Refund restrictions apply. See Bingo Cage for details. Guaranteed winners every day, every property. Additional sales are cash only. Additional Packs $25. Maximum 20 per player, per day. Additional 3-on coverall strips $5 each. Maximum 20 per player, per day. All machines require your 9-on entry pack plus a minimum of 2 additional $25 packs Complete Rules posted in each Bingo Room. Management reserves all rights. Don't let the game get out of hand. For assistance call 800-522-4700.
Choose from 3 of our participating properties for the Power Bingo $1.5 million series. Call or register online below.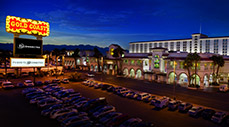 Gold Coast Hotel & Casino
The Gold Coast is a 711-room resort destination resort, conveniently located near the Strip and Chinatown. Stay in one of our comfortable and affordable standard rooms, or treat yourself to a newly remodeled, 720-square-foot suite, complete with marble bath countertops and a wet bar.
Reserve Your Spot Now
or Call 1-800-331-5334 ext. 8863
View Official Gold Coast Website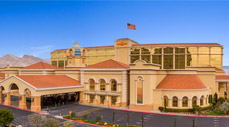 Suncoast Hotel & Casino
Vacation in Las Vegas at Suncoast Hotel and Casino, where every guest is treated like royalty. Nestled among 81 holes of golf near the upscale community of Summerlin, Suncoast offers 388 deluxe guest rooms at 550 square feet, and 39 lavish guest suites ranging from 1,100 to 2,300 square feet.
Reserve Your Spot Now
Call 1-877-636-7111 ext. 5611
View Official Suncoast Website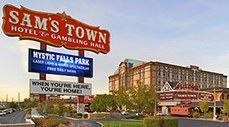 Sam's Town Las Vegas
Sam's Town is nestled in the shadow of the Sunrise Mountains, just a few quick miles from the Las Vegas Strip. Sam's Town boasts 646 elegantly appointed rooms and suites. Choose a room overlooking the bubbling brook and trees of the Mystic Falls Indoor Park or opt for a view of the glittering city lights and majestic mountains surrounding Las Vegas.
Reserve Your Spot Now
Call 1-877-489-4889
View Official Sam's Town Website
Warm-Up Games
11:30am on Mon. & Tue. Not linked between properties. 6-On Packs $10 1st Pack. $5 Each Additional Pack. Electronic or Paper. 20 Maximum Packs per player, per day.
| | | |
| --- | --- | --- |
| Game 1 | Letter X | $1,000 |
| Game 2 | Double Bingo (into) | $1,000 |
| Game 3 | Triple Bingo | $1,000 |
| Game 4 | Two Postage Stamps (into) | $1,000 |
| Game 5 | 3 Postage Stamps | $1,000 |
| | | |
| --- | --- | --- |
| Game 6 | Crazy L (into) | $1,000 |
| Game 7 | Large Picture Frame | $1,000 |
| Game 8 | Double Bingo (into) | $1,000 |
| Game 9 | Triple Bingo | $1,000 |
| Game 10 | Large Diamond | $1,000 |
| | At Each Property | $10,000 |
Monday - 1:00pm Power Bingo
Game 11
Indian Star
$10,000
Game 12
Double Bingo
$10,000
Game 13
Small Picture Frame + 4 Corners
$10,000
Game 14
Diagonal & Hardway
$10,000
Game 15
Crazy T
$10,000
Game 16
Double Hardway
$10,000
Game 17
Large Crazy Kite
$10,000
Game 18
Triple Bingo with Wild Number
$10,000
Game 19
Cloverleaf
$10,000
Game 20
Broken Picture Frame & 1 Bingo
$10,000

INTERMISSION

Game 21
Double Bingo
$10,000
Game 22
Crazy Pyramid
$10,000
Game 23
Double Hardway
$10,000
Game 24
Percent Sign
$10,000
Game 25
Fly Swatter & Fly
$10,000
Game 26
4x9 with Wild Number
$10,000
Game 27
Three Layer Cake (into)
$10,000
Game 28
Coverall (into)
$50,000
Game 29
2nd Chance
$20,000
Game 30
3rd Chance
$10,000
$250,000
Tuesday - 1:00pm Power Bingo
Game 11
Crazy C
$10,000
Game 12
Double Bingo
$10,000
Game 13
Bow Tie
$10,000
Game 14
Diagonal & Hardway Six Pack
$10,000
Game 15
Double Hardway
$10,000
Game 16
Double X
$10,000
Game 17
Flag
$10,000
Game 18
Triple Bingo with Wild Number
$10,000
Game 19
Solid Diamond
$10,000
Game 20
Two Outside Lines & 1 Stamp
$10,000

INTERMISSION

Game 21
Double Bingo
$10,000
Game 22
Hot Dog
$10,000
Game 23
Double Hardway
$10,000
Game 24
Crazy H
$10,000
Game 25
Double Hardway Six Packs with Wild Number
$10,000
Game 26
Crossed Flags
$10,000
Game 27
Crazy Railroad Tracks (into)
$10,000
Game 28
Coverall (into)
$50,000
Game 29
2nd Chance
$20,000
Game 30
3rd Chance
$10,000
$250,000